COVID-19 : How do you enhance safety of your employees and visitors?
Saint IT have a range of technology which helps keep employees and visitors safe, our entry systems come in three different sizes to suit any size of business or venue;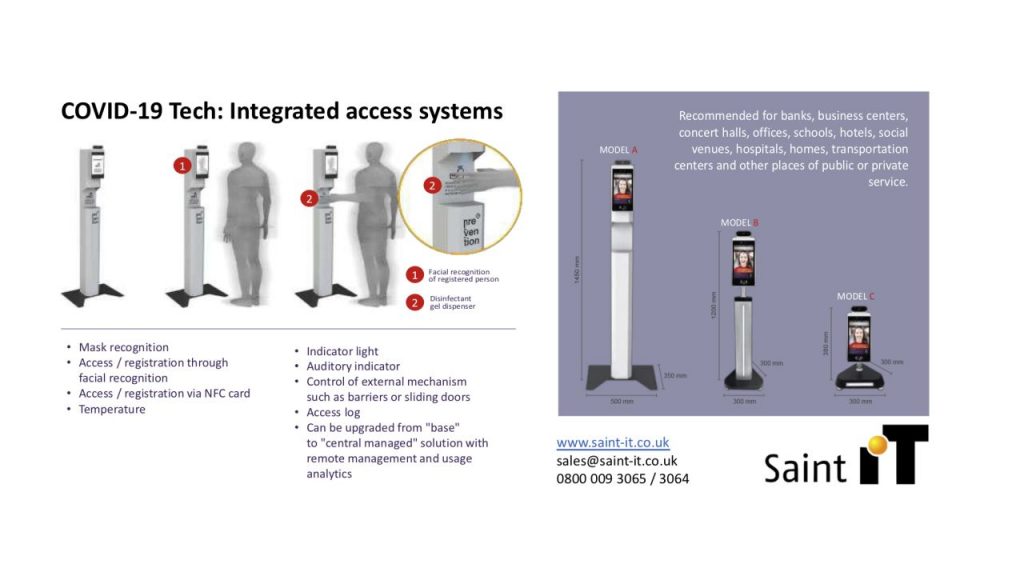 – Temperature check
– Sanitiser dispenser, Model A
– Mask check (on or off)
– Facial recognition of registered individuals
– Can be integrated into door or barrier access systems
– Wifi or LAN connected
– Indicator lights
– Installation and support services
Restaurants, pubs, offices, manufacturing, retail outlets and venues are all seeing the benefit of this technology
This is part of a range of technology which Saint IT can provide to help combat covid-19 and keep our businesses and economy moving.
Contact us for pricing and further details.
#safety #safetyfirst #technology #covid19solutions #Covid19 #restauranttechnology #manufacturers
COVID-19 : How do you enhance safety

#Covid19 #covid19solution #manufacturers #restauranttechnology #safety #safetyfirst #technology #COVID19Howdoyouenhancesafety